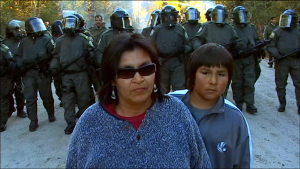 (Montreal) Distribution Multi-Monde, the Algonquins of Barriere Lake and organizations supporting the Algonquin community are thrilled to announce the Canadian premiere of the film Honour Your Word. The premiere will be part of the Cinema Politica film series at Concordia University on Monday February 10, 7pm at the D.B.Clarke Theatre 1455 de Maisoneuve West.
The one-hour film documents the struggle of the Barriere Lake Algonquins to protect their land and culture. Despite signing a landmark agreement for cooperative management and revenue sharing on their traditional territory, the First Nation has repeatedly had to resort to blockades and other direct action strategies to prevent clear cut forestry and mining on their traditional territory.
Last November, the community halted forestry operations by Resolute Forest Products that were permitted by Quebec without following consultation protocols established under the 1991 agreement.  Mineral exploration by Copper One Resources was also suspended due to the community's concern about impacts of mining on their traditional lands.
Honour Your Word is an intimate portrait of life behind the barricades for the Algonquins of Barriere Lake, whose dignity and courage contrast sharply with the political injustice they face.  "The title refers to their campaign slogan demanding Canada and Quebec honour the conservation deal signed in 1991," explains film maker Martha Stiegman. Stiegman worked on the film for four years and hopes the film will help correct negative stereotypes of the community, and of First Nations more broadly.
 "I hope this film helps Quebeckers and Canadians understand our shared responsibility for protecting the land and how irresponsible Quebec and Canada are being in their relations with us," said Barriere Lake Councilor and community spokesperson Norman Matchewan.
"Quebec is well behind most other Canadian jurisdictions in its approach to Indigenous peoples – especially when it comes to mining," noted Ramsey Hart of MiningWatch Canada.  "This film should be a wake up call for Quebeckers about the serious injustices occurring just a few hours north of Montreal" he added.
"We are looking forward to getting this film out and using it to continue building support for the Algonquins of Barriere Lake. It's long past time Canada and Quebec honoured their word," concluded Steven Baird from the group Barriere Lake Solidarity.
Director Martha Stiegman, Barriere Lake spokespeople, and representatives of organizational allies will be available to speak to the media prior to the screening starting at 6:30pm.
Contacts:
Norman Matchewan, Algonquins of Barriere Lake spokesperson, (819) 441-8006
Martha Stiegman, Honour Your Word director, (902) 412-6106
Ramsey Hart, MiningWatch Canada, (613) 298-4745
Links: