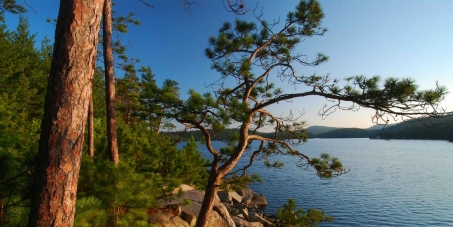 North Bay — As the provincial election nears its climax, a coalition of 30 businesses and organizations says the time is now for candidates and party leaders to commit to protecting the world's largest remaining stand of old-growth red pine. The Wolf Lake Coalition is using a variety of approaches to seek support from candidates in three ridings and the party leaders for protecting the old-growth forest surrounding Wolf Lake.
The forest, located in Greater Sudbury, is part of the Temagami region renowned for its forests, lakes, wildlife and diverse recreational and ecotourism opportunities. Though slated to become part of a network of protected areas, mineral claims and leases have blocked the transfer of the lands into the park system. Unfortunately, the Ministry of Northern Development and Mines has failed to seize past opportunities to let the claims and leases expire, as promised.
Coalition members are looking for support from candidates in the Sudbury, Nickel Belt and Timiskaming-Cochrane ridings, as well as the party leaders. The Coalition hopes to get commitments from all parties to finalise the forest's protection before more damage is done to the area by mineral exploration activities.
"Wolf Lake is an ecological gem of global importance. At the same time it makes an important contribution to local businesses and is cherished by the many Ontarians and visitors who have experienced it. Protecting it should be an easy decision for every party," noted Bob Olajos of the Friends of Temagami.
"In itself the protection of Wolf Lake is an important issue for Sudbury. It is also a litmus test for a balanced approach to development and conservation in the region" said Ramsey Hart of MiningWatch Canada.
Information about the responses from the candidates and leaders will be shared with the Coalition's extensive network of supporters and the media prior to the June 12 election.
Contacts:
Bob Olajos, President, Friends of Temagami: 705-499-0692!
Ramsey Hart, Canada Program Coordinator, MiningWatch Canada: 613-298-4745
For additional information: http://savewolflake.org
Photo credit: Earthroots, http://www.earthroots.org/news/276-save-wolf-lake13