A commission of Ecuadorian human rights and environmental organizations have issued a report based on their recent visit to the Intag valley in northwestern Ecuador where the formerly Canadian-listed Copper Mesa Mining (formerly Ascendant Copper) operated until about 2008. Copper Mesa lost its mining concessions under strong pressure from broad local opposition to its proposed copper-molybdenum mine. Around this time, local residents tried to sue two of Copper Mesa's directors in Ontario for negligence after the company hired private armed guards who tried to enter its mining concessions by force.
Even before the arrival of Copper Mesa, the community of Junin and other communities in the area of Intag were defending their lands and their ways of life so that they will be free of contamination and displacement. In the 90s, they successfully pressured the Japanese firm Bishi Metals to leave Intag. As such, it is now seventeen years that these communities have stood in defence of their sources of water, forests and agriculture, essential for their food sovereignty and local economy.
Recently, the national state mining company (ENAMI) aquired the mining concession, now called Llurimagua, for the exploration and future extraction of copper in the Toisán mountain range. This project directly affects the community of Junin, as well as other communities in the rural parishes of García Moreno and Peñaherrera, county of Cotacachi, province of Imbabura. The project is contracted through an agreement with the transnational mining company Codelco of Chile, dated November 28, 2011.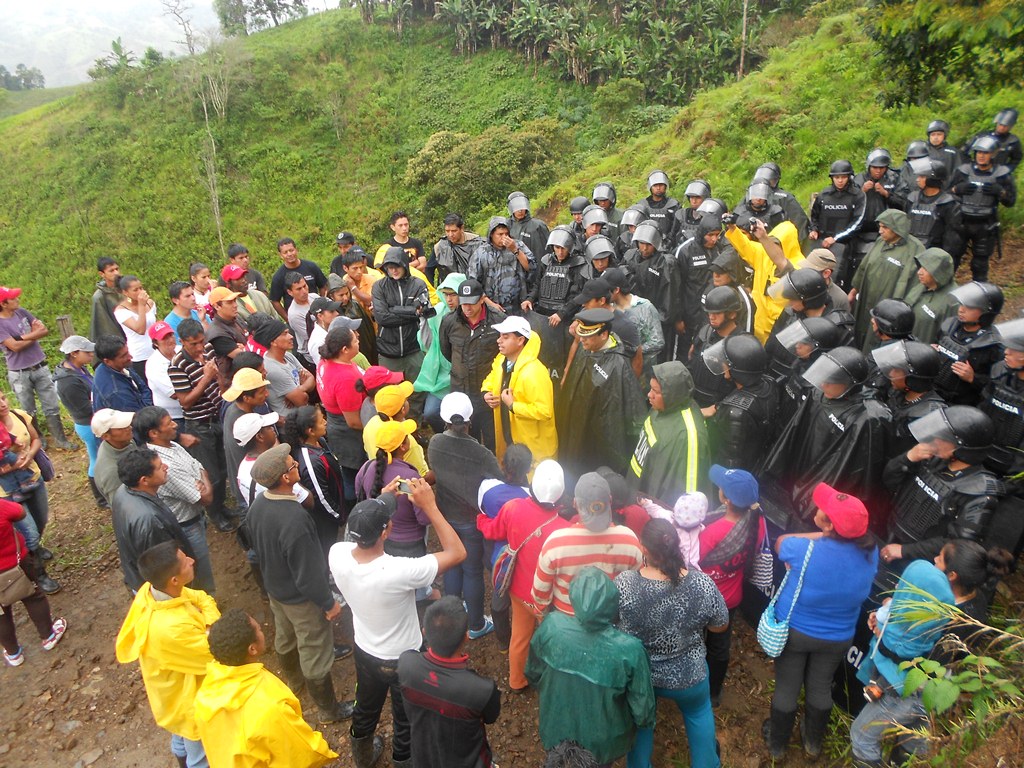 On April 10, 2014, members of the national police detained Darwin Javier Ramírez Piedra, President of the community of Junin, in the county of Nanegalito. According to testimonies gathered, the detention took place without a corresponding court order. Javier was held in isolation for several hours and interrogated without legal defence and without knowing the reason for his detention. As such, the Cotacachi prosecutor illegitimately accused him of the alleged crime of rebellion and sabotage.
On May 8, 2014, ENAMI entered Intag and the community of Junin accompanied by police forces in the framework of the Llurimagua mining project.
The human rights and environmental commission organized in response to these events and visited Intag from May 14th to 16th, 2014. They observe that the state mining company, ENAMI, has instituted a "de facto state of emergency" in order to carry out mining exploration activities by force, generating a sense of fear and intimidation among the local population and violating numerous human rights, including the right to prior consultation over decisions that could affect the environment.
They conclude urging the Minister of the Interior to revoke the National Operation Intag and to lift the de facto state of emergency. They also condemn the state's efforts to impose this project by force and try to weaken community and local organizations in this way.