(Ottawa) Barrick Gold's Porgera Joint Venture Mine in Papua New Guinea (PNG) has long been associated with extreme violence against local men and women by mine security and state police associated with the mine. The level of human rights abuses at the mine has spiked again this year.
In April, combined state police and army units were once again "called out" to Porgera by the PNG government to deal with Barrick's ongoing inability to stop local people displaced by the mine from entering the pit and the mine's massive uncontained waste flows in a desperate attempt to eke out a living from residual gold.
In June, MiningWatch Canada reported on the burning down of houses of the Tiene clan of the village of Wingima, adjacent to the mine, and associated human rights abuses such as the reported rape of local women by state police. This was a repeat of a similar mass burning of houses of the Tiene and other clans living near the mine by state police in 2009, reported on by MiningWatch and documented by Amnesty International.
In July, 26-year old Wasato Kaipas was the victim of "murder" by "mine security guards" according to the Royal Papua New Guinea Constabulary Crime Report. The report says he was "shot in the head to die instantly while he tried to run away from inside Barrick PNG's mine site."
"How many more of our women will be raped, and our men shot dead, and our houses burned down, before Barrick finally does what we have been asking for, for years now?" asks Jethro Tulin of the Porgera grassroots human rights organization Porgera Alliance. "Barrick needs to resettle the people out of the Special Mine Lease area so that they no longer have to live around the pit and amidst the mine's hazardous waste."
"Barrick's response to years of reported gross violations of human rights by its mine security in Porgera has been to pay consultants such as Business for Social Responsibility and Fund for Peace for proprietary reports and advice, and to bring in Avanzar LLP to conduct internal risk-based human rights assessments," says Catherine Coumans of MiningWatch Canada. "While these human rights assessments extract information from local people, they are not available to the very people who are suffering human rights abuses by the mine, and the human rights abuses continue unabated."
While in Canada, Mr. Tulin will be meeting with the Canadian Government's National Contact Point for the OECD Guidelines for Multinational Enterprises, with Canadian human rights experts and NGOs, and with the Canadian public in Ottawa, Montreal, and Toronto.
In New York, Mr. Tulin will be attending the World Conference on Indigenous Peoples, a high level plenary meeting of the United Nations General Assembly.
For more information contact:
Jethro Tulin, Porgera Alliance, (675) 728-17336, jctulin(at)gmail.com
Catherine Coumans, MiningWatch Canada, (613) 569-3439, catherine(at)miningwatch.ca
Related Documents:
The attached documents were provided by the family of Wasato Kaipas to raise public awareness of his killing and of violence by mine security at the Porgera mine. They seek compensation for his death.
Royal Papua New Guinea Constabulary Crime Report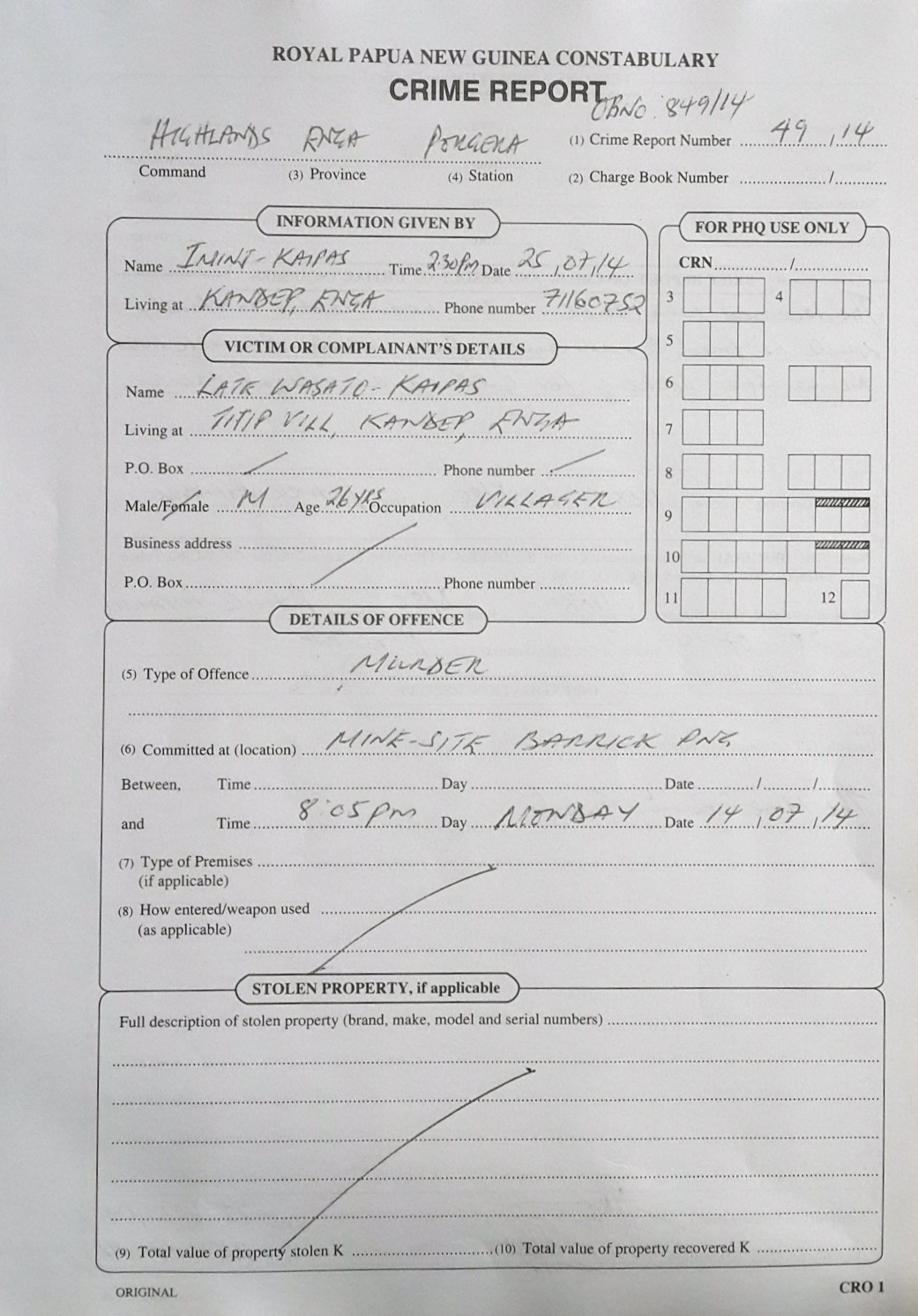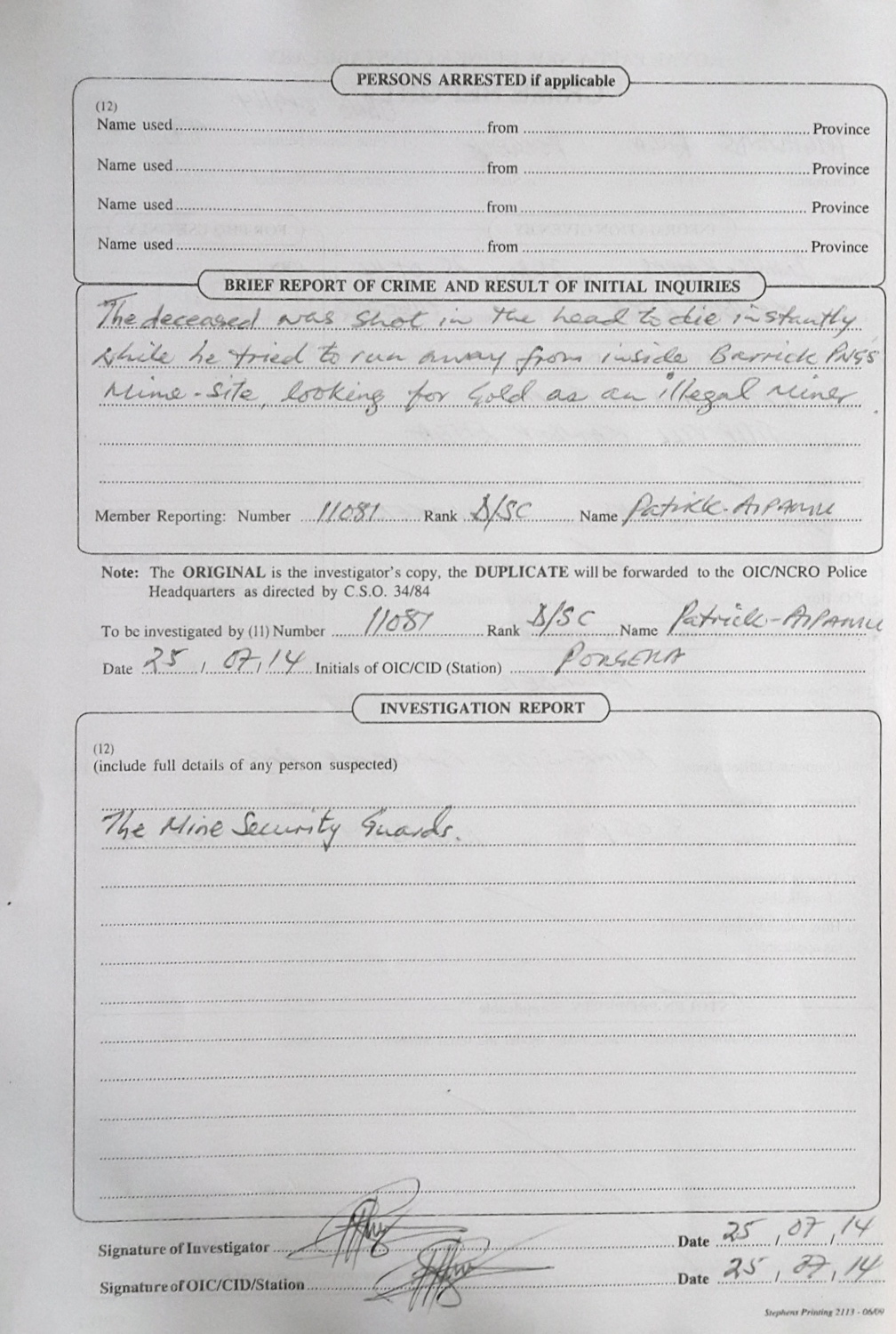 Porgera Hospital Autopsy Report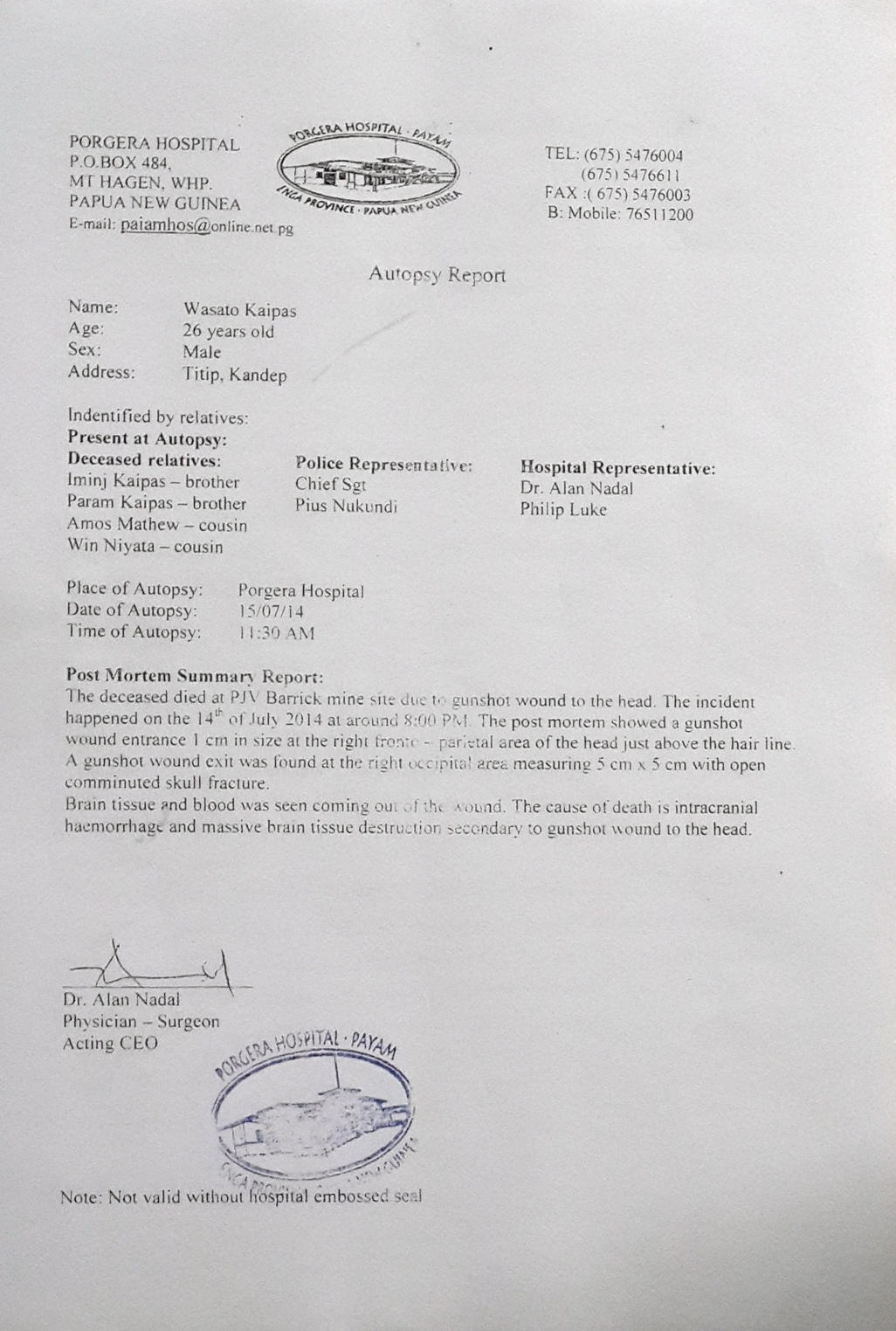 Pictures of the deceased