Five kilometres deep on the Cook Islands seafloor, potato-shaped rocks pave the bottom loaded with expensive minerals like cobalt, copper, manganese and nickel.
Written by Caleb Fotheringham, Cook Islands News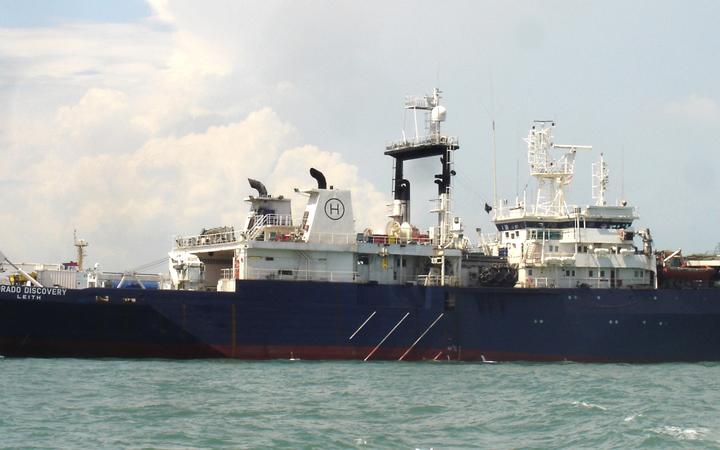 Odyssey's research vessel used for mineral exploration work in Papua New Guinea, Solomon Islands, Tonga, Fiji, Vanuatu and New Zealand Photo: Adam Stemm

They're called polymetallic nodules and three weeks ago the Cook Islands Prime Minister, Mark Brown referred to them as "golden apples".
Brown made the comment during an official signing ceremony where three companies were awarded a seabed minerals exploration licence.
The licence allows the companies to see if mining is a viable option which includes reviewing the environmental risks associated with the task.
Brown, who is also the Minister for the Seabed Minerals Authority, compares the Cook Islands situation to Norway - a country that enjoys some of the highest standards of living in the world, made possible through abundant natural resources.
Brown sees the expensive minerals bringing infrastructure improvements to airports, ports and schools.
The Pa Enua (outer islands) will have drinking water security - something that's always been a challenge but has been made worse through climate change.
High-speed internet will be available throughout the entire nation and Cook Islanders living overseas could even be beneficiaries of education scholarships in whatever fields or universities they choose.
A more short-term benefit would be retaining some of the Cook Islands population who are leaving for New Zealand's far more attractive wages.
"Today our people are leaving to pick apples in New Zealand, tomorrow, we will have our own apples to pick, and they sit on the floor of our ocean," Brown said at the ceremony which was followed by a round of applause.
Three companies given the licence are Cook Islands Colbalt (CIC) Limited, Moana Minerals Limited and Cook Islands Investment Company (CIIC) Seabed Resources Limited which is co-owned by the Cook Islands Government.
These companies are based around the world and share joint ownership with other mining companies. All companies have budgeted between $55.4 million to $71.7 million to conduct the exploration process over the next five years.
Despite the riches the "golden apples" are promising, many nations and environmental groups like Te Ipukarea Society, a non-government organisation in the Cook Islands, has called for a 10-year-moratorium on seabed mining, something the Cook Islands Government with support from the opposition party have vocally opposed.
Even companies like BMW, Renault and Microsoft - companies who would be beneficiaries of the mining have supported a moratorium.
Tech giant, Microsoft said in a report that due to the early nature of deep-sea mining the company will wait "until the proper research and scientific studies have been completed" until using any of the minerals.
Goldman Environmental Prize winner and marine conservationist, Jacqueline Evans says seabed mining has a direct impact on the biodiversity that lives on and around the nodules. The disposal of sediment from the ship will also impact marine life, she says.
Another concern of Evans and the technical director at Te Ipukarea Society, Kelvin Passfield, is the companies could be reluctant to leave if they're granted a mining licence.
Passfield says, "our concern is they're not expecting to spend that money and say, 'oh it looks like the environmental impacts are not going to be good, so we're going to pack our bags and leave'."
"We need to be sure that does happen and if the impacts are going to be too great that they will pack their bags and leave, and the Cook Islands is not going to be put under any pressure to award them a licence.
"These companies, they're in the business of making money, they're in the business of pouring millions of dollars of investors' money into the seafloor.
"Their expectation is they're going to get an exploitation (mining) licence."
The Cook Islands have rules in place in the exploration legislation that protect the companies.
Evans says, "the legislation doesn't allow us to deny a mining licence for whatever reason - there are pre-stated reasons for denying a licence. This favours the mining companies more than it favours ourselves."
The concerns of being sued are exacerbated by ongoing litigation between Odyssey Marine Exploration, which is a joint owner of CIC - one of the Cook Islands companies with an exploration licence - and the Mexican Government.
Odyssey is seeking more than $US2.3 billion from Mexico after being denied a mining licence by the Mexican government.
Dr Catherine Coumans, the Asia-Pacific programme coordinator for Canadian non-profit organisation MiningWatch Canada, has experience supporting governments fighting costly, years-long legal battles against mining corporations.
Coumans says the Mexican government denied the licence on the grounds that the proposed mining would endanger turtles, whales and fishing grounds. It was also based on a lack of public consultation.
...
Full article available here.