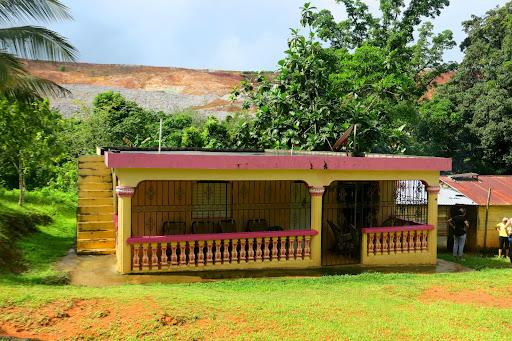 Photo: A house in the community of El Naranjo in the Dominican Republic, metres away from the existing area for mine waste at Barrick Gold's Pueblo Viejo mine. Source: Catherine Coumans, MiningWatch Canada
OTTAWA, SANTO DOMINGO – Today, mine waste safety expert Dr. Steven Emerman released findings of his independent review of Barrick Gold's Environmental and Social Impact Assessment for the Naranjo Tailings Storage Facility (TSF), warning that the Canadian mining giant is failing to adequately disclose the environmental and social risks posed by its planned expansion at the Pueblo Viejo mine in the Dominican Republic.
In operation since 2012, Pueblo Viejo is one of the world's largest gold mines. With the existing area to store mine waste nearly full, Barrick has submitted plans to build a second "Tailings Storage Facility (TSF)" to extend mining operations to 2049. The proposed "Naranjo TSF" would store nearly 645 million cubic meters of combined tailings and potentially acid generating waste rock in an area nearly 16 kilometres square, held back by a dam the size of a 48-story building. Proposed as an aboveground tailings impoundment in an area prone to flooding and high seismic activity, mine waste would require close monitoring and care generations after operations ceased.
Among other findings, Dr. Emerman's expert review reveals that Barrick is failing to consider the real environmental and social risks of its proposed expansion, fails to properly disclose how it chose the site and design for the tailings dam, and fails to fully consider the implications of a dam collapse.
"Local communities have long called on Barrick to address and remedy existing environmental and health impacts from current mining operations at Pueblo Viejo, and the people and environments most affected by this proposed expansion are still being left in the dark," says Leoncia Ramos from the Comité Nuevo Renacer. "We have been left without access to water, with health problems and with environmental contamination. The new tailings dam will only compound these problems."
"An Environmental and Social Impact Assessment (ESIA) is a tool that the Dominican government and the Dominican public can use to determine whether the approval of the proposed Naranjo facility would be a wise decision," says Dr. Emerman. "But the Dominican government has greenlit this expansion based on faulty and incomplete information provided by Barrick Gold. Barrick's ESIA should be redone."
According to Dr. Emerman's findings, the ESIA for the Naranjo TSF lacks a clear understanding of why the chosen site was selected and provides no explanation for building an aboveground facility rather than follow industry best practice, which requires companies to consider backfilling existing open pits with waste rock and tailings to reduce the significant environmental risks associated with aboveground tailings dams of this size. The ESIA fails to mention the well-documented environmental and social impacts of a dam failure and does not consider the cumulative impacts of building a second dam in such close proximity to the existing one.
"Barrick's ESIA outlines a plan for 10 years of water treatment, but doesn't include a plan for even one day of monitoring or maintenance of the dam itself after the mine closes," says Jan Morrill, Tailings Campaign Manager at Earthworks. "This leaves the Dominican government on the hook to fund and oversee any long term care of one of the largest rockfill earth core dams in the world."
"The way a mining company conducts an Environmental and Social Impact Assessment provides key insight into the company's values," says Diana Martin, Co-Manager at MiningWatch Canada. "Several key documents cited throughout the ESIA are listed in the bibliography as 'still in progress,' making it impossible for the Dominican government or anyone else to properly assess Barrick's analysis. This shows they are not serious about managing risk."
Representatives from ENTRE have submitted the findings to the Dominican government and anticipate a response in the coming weeks. "Dr. Emerman's review should be a wake-up call for the Dominican government and the international community," says Fernando Peña of the National Space for Transparency in the Extractive Industry (ENTRE). "Affected communities need to be fully informed about the risks such a project poses. As it stands, Barrick is failing to be transparent about the risks they themselves identify as extreme and which will impact our lives, our environment, and our future."
– 30 –
Media contacts: