Ecuador is embracing mining investment at the expense of Indigenous peoples, nature
This article was written by Viviana Herrera (MiningWatch Canada) and Ivonne Ramos (Acción Ecológica) and was originally published on Canadian Dimension. Top photo: Demonstration against Decree 754 in Sigchos, Cotopaxi, Ecuador. Photo courtesy the Confederation of Indigenous Nationalities of Ecuador (CONAIE).
Two Canadian mining companies are drawing the ire of activists and Indigenous groups in Ecuador, where the government of Guillermo Lasso is using Toronto-based Adventus Mining's Curipamba copper-gold project in Las Naves and Vancouver-headquartered Atico Mining's La Plata project in Sigchos as test sites to impose a new and controversial process for environmental consultation under Decree 754—an executive edict issued on May 31 that has been roundly denounced as unconstitutional and illegal.
Decree 754 aims to formalize a process for environmental consultation with the public, however it affords communities no rights to veto development projects on their lands. And while Ecuadorians have long demanded to have a meaningful say in weighing environmental risks for industrial activities like mining, opponents say the legislation is being introduced as a check-box exercise in an effort to expand mining in the country by accelerating the granting of environmental permits to transnational companies.
The pro-mining Lasso government, which swept to power in 2021, passed the decree a few weeks after dissolving the elected national assembly and proceeding to govern by executive fiat. National protests subsequently erupted, as citizens denounced Lasso's attacks on democracy and the adoption of new regulations that will impose conditions on the incoming government following presidential elections scheduled for August 20.

Photo: Militarization of Palo Quemado to impose Decree 754. Photo courtesy the Confederation of Indigenous Nationalities of Ecuador (CONAIE).
The environmental consultation process for both the Curipamba and La Plata mining projects has taken place against a backdrop of state violence and intimidation. Residents of Las Naves and Sigchos have faced heavily armed military and police forces, which have come in to break up protests, opening fire on demonstrators and injuring at least five people in Sigchos and 13 in Las Naves. Two people were also arrested. With its latest crackdown, the government is effectively criminalizing social protest against Canadian mining in the region.
National and international organizations have condemned the decree and the violence used to implement the consultation process. In a series of press conferences, the national Confederation of Indigenous Nationalities of Ecuador (CONAIE)—the country's largest Indigenous organization—and the Frente Nacional Antiminero (National Anti-Mining Front), among others, have denounced the state's repression. Last month, they filed a lawsuit before the Constitutional Court against Decree 754 in an effort to have it nullified.
On July 27, Volker Türk, the United Nations High Commissioner for Human Rights, expressed his concern over the violence in Ecuador and underlined the right of Indigenous peoples to be consulted on the use of their lands. In an official press release, he emphasized that "People directly affected by mining projects or activities must be heard, not repressed."
Although the Canadian embassy in Quito tweeted about the environmental consultations, it did not explicitly condemn the violence. Stephen Potter, Canada's ambassador to Ecuador, who was in Las Naves to visit Adventus's Curipamba project at the beginning of June, said in an interview that the mine is a "responsible investment that has the support of the community."
The episodes of state violence we have documented in Las Naves and Sigchos are not isolated cases. Just a few months ago, Adventus Mining was denounced by the Alliance for Human Rights of Ecuador for surrounding Indigenous Kichwa Saraguro territory with armed security forces to enable its subsidiary, Guayacan Gold, to carry out exploration activities. There has also been ongoing conflict and opposition tied to other Canadian mining projects, including in the Ecuadorian Amazon where the Shuar Arutam people have denounced the militarization of their territory to advance Vancouver-based Solaris Resources' Warintza copper project.
Environmental groups and mining-affected communities fear Decree 754 could intensify ongoing violence and conflict throughout Ecuador as the Lasso government is on the cusp of signing a free trade agreement with Canada and becoming the "next destination for mining."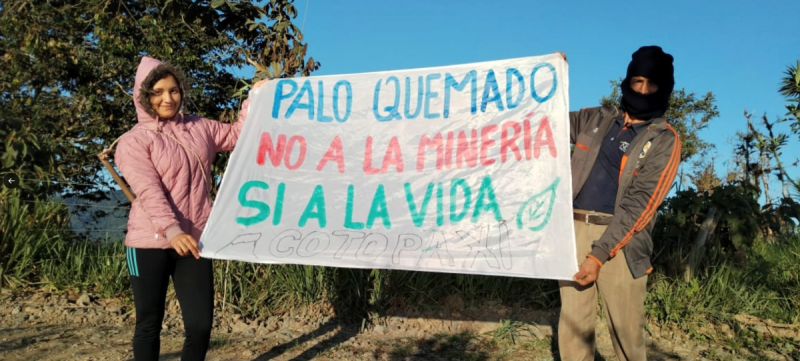 Photo: Protest against Decree 754 in Sigchos, Cotopaxi, Ecuador. Photo courtesy Red Nacional de Pastoral Ecológica. 
Only two mines are currently in operation in Ecuador, and the country currently lags behind regional neighbours Chile and Peru in large-scale mining development. In September 2022, in an attempt to increase extractive activity and rely less on revenues from oil, Ecuador's Minister of Mines and Energy, Fernando Santos, announced six new 'strategic' mining projects. Five of these will be led by Canadian firms, including Curipamba and La Plata. According to the minister, these projects may obtain an environmental license without the requirement for prior consultation. This announcement happened after one of the largest national strikes in the country called by CONAIE, demanding the Lasso government issue a moratorium on mining and nullify another decree—Executive Decree 151—that would allow for mining in the Amazon and on Indigenous territories.
Earlier this year, Santos spoke in Toronto at the annual conference of the Prospectors and Developers Association of Canada (PDAC), the world's largest mining convention, about Ecuador's plans to become Latin America's next premier mining destination by speeding up project approvals and signing a new trade pact with Ottawa. "A free trade agreement with Canada would make Ecuador the best mining destination," he reassured investors.
While he was in Canada promoting mining, affected communities in Ecuador issued their own statement, saying that Ecuador should reject the expansion of extractivist activity and demand that Canadian companies get out of the country.
Canada has been exploring free trade talks with Ecuador since earlier this year and Canadian and Ecuadorian organizations fear this is an effort to facilitate even more Canadian mining in the country. With $3.7 billion invested, Canada is the leading foreign investor in Ecuador, and the majority is already invested in the country's mining sector.
Many of these projects threaten key watersheds in fragile ecosystems, and contribute to social division and conflict.
In March 2023, multiple Canadian organizations sent submissions to Global Affairs Canada, highlighting key concerns from environmental groups and mining-affected communities in Ecuador. The submissions warned the Canadian government that a free trade agreement with Ecuador could exacerbate violence against land and Indigenous rights defenders who are organized in their opposition to Canadian projects.
One specific concern is the potential inclusion of an investment chapter and investor-state dispute settlement (ISDS) mechanism, currently being used in other jurisdictions by transnational mining companies to sue countries in private supranational tribunals if they feel their investments are being threatened.
The Trade and Investment Research Project of the Canadian Centre for Policy Alternatives urged in its submission that the Canadian government keep ISDS off the negotiating table because of its "incompatibility… with the achievement of human rights, including the rights of Indigenous Peoples, and urgent commitments to lower greenhouse gas emissions under the Paris Agreement."
Despite Quito and Ottawa's aggressive push to expand the mining industry in Ecuador, social movements are stepping up to protect water and life.
On August 1, Ecuador's Constitutional Court accepted a constitutional challenge filed by CONAIE and the Frente Nacional Antiminero, temporarily suspending Decree 754. Despite this victory, the groups continue to insist that it be completely overturned.
The Canadian government and its embassy in Ecuador must respect human rights and the rights of nature as established by the Ecuadorian Constitution. Canadian companies are directly implicated in the violence being carried out against campesino and Indigenous peoples, and communities say that the protection of mining investments cannot take precedence over the protection of life and nature.
As Bishop Giovanni Paz, a fierce defender of the rights of communities in the province of Cotopaxi who oppose the La Plata project, says, "Campesinos have hoes to work the land, they are not delinquents. What they want is for mining companies to leave their territories because they pollute, destroy the fields, and divide the community. [Communities] choose life, which is why they defend it."
Viviana Herrera is the Latin America program coordinator at MiningWatch Canada.
Ivonne Ramos is a founding member and climate justice program coordinator of Acción Ecológica in Ecuador.